Posted on Sunday, 6th October 2019 by Dennis Damp

Print This Post

Each year we publish a comprehensive leave record that federal employees can use to track their annual and sick leave, comp, and credit hours. Our updated 2020 Excel Leave Chart is designed for active federal employees that are planning their retirement and need to establish realistic target retirement dates. The new Excel 2020 Leave Record Spreadsheet also helps federal employees maximize their annuity through prudent management of their leave balances.
Request a  Federal Retirement Report  today to review your projected annuity payments, income verses expenses, FEGLI, and TSP projections.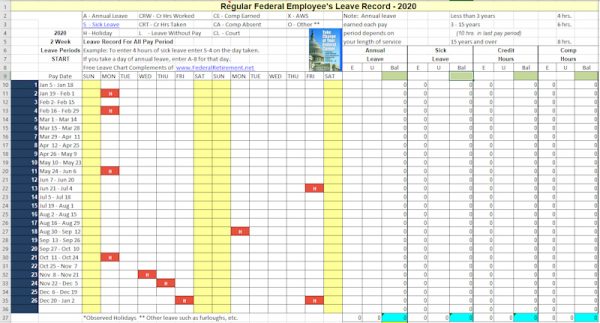 Please share our 2020 leave chart with everyone in your organization. The chart tracks all leave balances and you are able to annotate your work schedule on the chart as well. Simply download the spreadsheet to your desk top for easy access.
Download the 2020 Leave Record Chart
A few leave chart users reported a problem with opening the spreadsheet last year, the Excel chart was opening in protected mode and they were not able to enter data. If your spreadsheet opens in protected view click the "enable editing" button in the yellow bar at the top of the form. However, if you don't see the enable editing button you may have an older version of Excel or your IT department may have to allow the form to pass without restrictions. We also included a newer slsx workbook version that you can use if you have problems with the earlier version.
A Microsoft Office consulting firm advised us that If the spreadsheet only opens in the protected view status and the newer slsx version doesn't correct the problem talk with your IT staff. Some agencies increase their security settings to lock out certain documents based on set parameters. We include several hyperlinks in our spreadsheet to link users to additional supporting information such as our sick leave conversion chart and that may be the cause.
Scheduling A Retirement Benefits Seminar
Federal Employee Benefits Advocates (FEBA) provides comprehensive benefits briefings for Federal employees so they can make informed retirement decisions. Briefings include information on CSRS or FERS Retirement Annuities and all insurance programs including Medicare, the Thrift Savings Plan (TSP), Social Security, disability and other relevant retirement planning topics.
Schedule A Seminar in Your Area
Benefits Administration Letter 11-104 requires agencies to educate employees on how to plan for retirement. FEBA assists Federal agencies to comply with this directive. HR departments can Contact FEBA to schedule briefings for their area.
Helpful Retirement Planning Tools / Resources
Request a  Federal Retirement Report™  today to review your projected annuity payments, income verses expenses, FEGLI, and TSP projections
Disclaimer:Opinions expressed herein by the author are not an investment or benefit recommendation and are not meant to be relied upon in investment or benefit decisions. The author is not acting in an investment, tax, legal, benefit, or any other advisory capacity. This is not an investment or benefit research report. The author's opinions expressed herein address only select aspects of various federal benefits and potential investment in securities of the TSP and companies mentioned and cannot be a substitute for comprehensive investment analysis. Any analysis presented herein is illustrative in nature, limited in scope, based on an incomplete set of information, and has limitations to its accuracy. The author recommends that retirees, potential and existing investors conduct thorough investment and benefit research of their own, including detailed review of OPM guidance for benefit issues and for investments the companies' SEC filings, and consult a qualified investment adviser. The information upon which this material is based was obtained from sources believed to be reliable, but has not been independently verified. Therefore, the author cannot guarantee its accuracy. Any opinions or estimates constitute the author's best judgment as of the date of publication, and are subject to change without notice. The author explicitly disclaims any liability that may arise from the use of this material.
Last 5 posts by Dennis Damp
Posted in ANNUITIES / ELIGIBILITY, BENEFITS / INSURANCE, FINANCE / TIP, RETIREMENT CONCERNS | Comments (1)

Print This Post
One Response to "2020 Leave Chart & Schedule Tracker Now Available"
Nancy SS and AL payout Says:
October 9th, 2019 at 10:02 pm

Re SS and AL lump sum
This site saved us when we were planning retirement and didn't know what to do about healthcare. We have been very happy with GEHA. My 2 retirement seminars were quite lacking to say the least.

I would like to say what has happened lately. I retired 02/18 and received an annual leave lump sum of about 650 hours. Social Security started right away. Now 18 mos later, SS wants a lot back, according to my W2, I was overpaid. But most of that is vacation time.
The lesson here is to save your last few Earning and Leave Statements for a couple of years I guess. We are in an appeal process at this time, so wish us luck.