Posted on Saturday, 13th January 2018 by Dennis Damp

Print This Post

We published the new 2018 Excel Leave Chart back in late October. Since then a number of our site visitors were only able to open the Excel chart in protected mode and couldn't enter data. If your spreadsheet opens in protected view click the "enable editing" button in the yellow bar at the top of the form. However, if you don't see the enable editing button you may have an older version of Excel. To remedy this we published two versions of the spreadsheet, one with an xls and the newer xlsx extensions.  Visit our Leave Chart Page for more information and for the links to both versions of the form.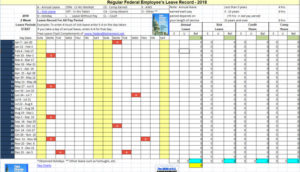 Please share the downloaded 2018 leave chart with everyone in your organization. The chart tracks all leave balances and you are able to annotate your work schedule on the chart as well.
A Microsoft Office consulting firm advised us that If both versions open in protected view the protected view status is a result of security settings on your agency's LAN and network. Some agencies increase their security settings to lock out certain documents based on the parameters the IT specialist selects. We do include several hyperlinks in our forms to link users to additional supporting information such as our sick leave conversion chart and that may be the cause. If you have this problem when opening the form I suggest talking with your IT people to have them allow the form to pass without restrictions.
DNA Testing Results
I wrote last year about my purchase of two Ancestry DNA kits for my wife and I. We've been curious for years about our heritage and I mentioned in the article that I would discuss the results in an upcoming article.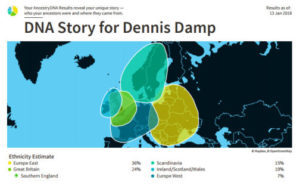 They posted our results online in just under three weeks including an extensive list of cousins from around the world. My results aligned with what I knew about my parents roots. My father's parents were both born in England and my mother's parents migrated from Vienna in the early 1900s.
The Ancestry DNA reports indicated that about half of my DNA originated from my father's side and half from my mothers, no surprise there. However, they broke it down to actual ethnicity estimates for major regional areas. For example, my great grandparents on my father's side immigrated to American in the very early 1900s with 11 of their 23 children! My great grandfather came to America after Queen Victoria died 1n 1901. He was the coach driver for the queen's ladies in waiting.  The report showed that 24% of my DNA originated in Great Britain and 10% Ireland, Scotland and Wales with 35% eastern European, 7% west European, and 15% Scandinavian. Looks like I  have some Viking blood in my veins.  It also shows migration paths for years starting back to 1800 with a laundry list of 4th cousins with many pictures.
My grandparents on my mother's side both came from Vienna in the early 1900s through Ellis Island. That's where the east and west European percentages came from.
My wife's story  is similar and she didn't appear to have any Cherokee blood as her mother had related to her. With that said, my wife's profile shows that those who migrated to American in the early 1700s and 1800s arrived in what was Indian territory at the time and maybe one of her ancestors married a native American.  My wife has blue eyes and red hair confirming much of what the report provided. Her family migrated much earlier to America, around 1700 and 46% of her DNA originates in Ireland, Scotland and Wales with a concentration around Ulster Ireland, 23% in Great Britain, 9% Scandinavian and 14% western Europe. Again, Viking blood so we are a good match as 48 years of marriage has proven. Now I know why I always wanted to sail the seven seas.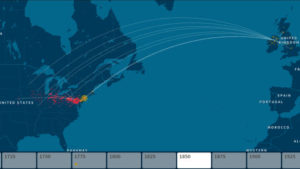 Each report shows migration paths and the years of migration which is also interesting, most of Mary's family settled in Pennsylvania, Ohio, and Indiana.  Mine settled in Pennsylvania, Canada, and many in Australia.  The DNA reports can be confirmed in part from life in general. My wife's family had relatives in Indiana, one of the major migration paths shown on her report. Many of my relatives worked in the Pittsburgh area and several were highly skilled woodworkers that built the Cathedral of Learning in Oakland. Whenever I visit I envision my ancestors working on the intricate woodwork that is prevalent though out the site.
Ancestry DNA provides access to family trees, and considerable genealogical research. You can search their census and voter lists, birth, marriage and death notices, immigration records and travel, military records, and their card catalog. I've not tried these yet, still too busy with work to make the time I would like to spend on the effort.
From my perspective the cost of the Ancestry DNA kits are reasonable and currently on sale. The online access makes research and review easy and you can also print out your reports for safekeeping and share the results, if desired, on line with family and friends.
Several readers mentioned after my first article on this subject about their concern for privacy. You can limit the release of your data when you sign up. I limited our data so that much of the information isn't shared however I may change that because by sharing the results anonymously you get a larger pool of results I believe.
Helpful Retirement Planning Tools / Resources
Request a  Federal Retirement Report™  today to review your projected annuity payments, income verses expenses, FEGLI, and TSP projections.
Distribute these FREE tools to others that are planning their retirement
Disclaimer: Opinions expressed herein by the author are not an investment or benefit recommendation and are not meant to be relied upon in investment or benefit decisions. The author is not acting in an investment, tax, legal, benefit, or any other advisory capacity. This is not an investment or benefit research report. The author's opinions expressed herein address only select aspects of various federal benefits and potential investment in securities of the TSP and companies mentioned and cannot be a substitute for comprehensive investment analysis. Any analysis presented herein is illustrative in nature, limited in scope, based on an incomplete set of information, and has limitations to its accuracy. The author recommends that retirees, potential and existing investors conduct thorough investment and benefit research of their own, including detailed review of OPM guidance for benefit issues and for investments the companies' SEC filings, and consult a qualified investment adviser. The information upon which this material is based was obtained from sources believed to be reliable, but has not been independently verified. Therefore, the author cannot guarantee its accuracy. Any opinions or estimates constitute the author's best judgment as of the date of publication, and are subject to change without notice. The author explicitly disclaims any liability that may arise from the use of this material.
Last 5 posts by Dennis Damp
Posted in ANNUITIES / ELIGIBILITY, FINANCE / TIP, LIFESTYLE / TRAVEL, RETIREMENT CONCERNS | Comments (0)

Print This Post