Posted on Friday, 3rd April 2020 by Dennis Damp

Print This Post

The administration is considering new options to combat the Coronavirus including the wearing of facemasks for the general population when they go out and about. The CDC may soon recommend that everyone wear face coverings in public settings when they go to a pharmacy, grocery or other public places.  Essentially, they are concerned that those not exhibiting symptoms may be unwittingly spreading the virus to others.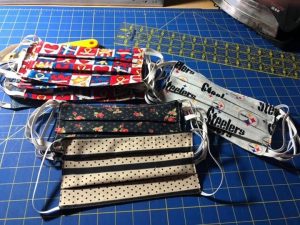 Stylish and functional facemasks made at home by my niece.
They want us to wear cloth masks, not the N95 masks needed by our health care providers. Many seamstresses and home makers are producing masks across the country. I have the commercial construction trade N95 masks that I use at home when spraying chemicals and paints. I wear one while out in the public. Any face covering will do, including a scarf or any cloth material that you find suitable. I believe it's a great idea.
The administration may eventually relax work restrictions in areas of the country where the virus isn't prolific and spreading. That will help to restart our economic engine. Farmers need migrant workers to plant and harvest their crops now and because of the crisis their visas have been delayed. This is a critical issue for our food supply and I'm certain the administration is working to correct this.
It's been a busy week trying to stay healthy and "ahead of the curve" as we use to say. After trying for several days, I finally locked up a Walmart Grocery Pickup Slot last Wednesday. I entered our grocery order online and initially all of the pickup and delivery slots were taken. I went online in the early morning and again around 6 pm each evening until several slots opened up.  I also tried to access one of the major groceries online ordering sites without success.
Everyone and their uncle must be ordering online for pickup and delivery these days. Many older retirees and those at risk should take advantage of this excellent service. Major chain stores now have early hours for older customers and those at risk.  I went to one of the first ones they offered in our area at 6 am on Monday morning several weeks ago. The grocery shelfs for many products were empty.  They didn't have time to restock from the weekend.  That may have been an anomaly.
Walmart is hiring new associates so they can handle more grocery order pickup and delivery requests. You can change your order up to 4 hours before the scheduled pickup and I added 4 items the night before. They had to substitute several items and they notified me by email for approval. You can approve the substitution or cancel that item if it isn't desirable.
Walmart sent me a text when the order was ready.  I replied that I was en route on their Walmart Grocery App. Upon arrival, I entered the line number I was in so they knew where I was parked. It's very efficient and the order was spot on.  I will use the service again and since you pay using a credit card you don't have to handle cash that may be contaminated with who knows what these days.
Some companies are offering concierge services where you pull up to the store, hand your order to a worker, and they fulfill it and bring it to your car. Sam's Club started doing this recently. You can go online, make a written list of what you what and never get out of your car to get your ordered filled. It does take time for them to pull the items off the shelf, so be patient.
This week I had all of the spring landscaping completed and power washed the driveway and sidewalks. Spring cleanup took up a lot of my time, putting out the yard statues and porch furniture, turning on the outside water faucets, cleaning out my shed, and so much more. There was little time to dwell on the obvious gorilla in the room.  The Corona virus is still front and center however southwestern PA's cases fortunately don't seem to be on a pronounced trajectory like New York and others.
Some reporters and news media are sensationalizing everything and I believe causing undue stress for many. The dire predictions are hopefully just that, created from a model that with time is modified by reality. Life will return to normal sooner than later. The best way for me and my wife to combat this is to stay calm, go out in public as little as possible, wear gloves and masks while out, keep active, and take care of things on the home front.
I've written several articles centered around this pandemic over the past 4 weeks that if you didn't orignal have time to read, go back and take a look:
Request a Federal Retirement Report Retirement planning specialists provide a comprehensive Federal Retirement Report™ including annuity projections, expenditures verses income, with a complete benefits analysis. This comprehensive 27-page benefits summary will help you plan your retirement.
Request Your Personalized Federal Retirement Report™ Today
Find answers to your questions: The best time to retire, retirement income vs expenditures, FEGLI options and costs, TSP risks and withdrawal strategies, and other relevant topics. Determine what benefits to carry into retirement and their advantages. You will also have the opportunity to set up a personal one-on-one meeting with a CERTIFIED FINANCIAL PLANNER.
Helpful Planning Tools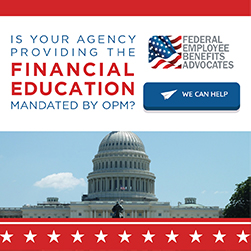 Disclaimer: Opinions expressed herein by the author are not an investment or benefit recommendation and are not meant to be relied upon in investment or benefit decisions. The author is not acting in an investment, tax, legal, benefit, or any other advisory capacity. This is not an investment or benefit research report. The author's opinions expressed herein address only select aspects of various federal benefits and potential investment in securities of the TSP and companies mentioned and cannot be a substitute for comprehensive investment analysis. Any analysis presented herein is illustrative in nature, limited in scope, based on an incomplete set of information, and has limitations to its accuracy. The author recommends that retirees, potential and existing investors conduct thorough investment and benefit research of their own, including detailed review of OPM guidance for benefit issues and for investments the companies' SEC filings, and consult a qualified investment adviser. The information upon which this material is based was obtained from sources believed to be reliable, but has not been independently verified. Therefore, the author cannot guarantee its accuracy. Any opinions or estimates constitute the author's best judgment as of the date of publication, and are subject to change without notice. The author explicitly disclaims any liability that may arise from the use of this material.
Last 5 posts by Dennis Damp
Posted in LIFESTYLE / TRAVEL, RETIREMENT CONCERNS, WELLNESS / HEALTH | Comments (0)

Print This Post