Posted on Friday, 7th July 2023 by Dennis Damp

Print This Post

Retirees continue to suffer the brunt of inflation's wrath with little relief on the horizon. Yes, the feds continue to say inflation is waning but few of us feel a sense of relief from the high cost of everything today, especially big-ticket items: housing, rent, gas at the pump, utilities, travel in general, and visits to the grocery store or to restaurants.
It isn't only those on fixed incomes, most are finding this new reality difficult to navigate. Many are priced out of the new home market. In the suburbs of Pittsburgh, they are selling new 3-bedroom 1500 to 2,000 square foot homes with a bath and a half for the high $300,000 to $500,000 range!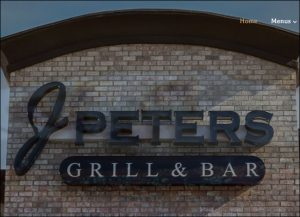 My son and I went to breakfast in Myrtle Beach recently, thirty dollars for omelets, toast and coffee! That afternoon we went out for an early dinner at J Peters Grill & Bar and had the best meal I've had in ages. I ordered grilled salmon, broccoli, a large side salad and croissant; my son had steak, broccoli and side salad. The bill came to $32 after a 10% military discount and that was reasonable considering the exceptional service and food they served.
By the way, we paid $2.85 for gas in Myrtle Beach on May 20th, it was $3.65 in Pittsburgh two days earlier. Pennsylvania's gas tax is one of the highest in the nation.
The Good Old Days
I recall paying 75 cents for two eggs, toast, and coffee at a local diner in Phillipsburg, PA when I started working for the FAA! I do realize this isn't 1975, but "come on man," as someone we all know laments often during his speeches.
At the time, I was living at a boarding house Monday through Thursday and searching for an apartment at my new duty station. My wife and son were back at our apartment in Pittsburgh.
Here is a short excerpt from my memoire, The Early Years, A Road Less Traveled. "I stayed at the Silent Night Home, a boarding house in Phillipsburg, renting one of their bedrooms for twenty dollars a week. All of the boarders shared a bathroom. The two-story, five-bedroom Victorian residence was in the center of town. The owners were snowbirds who traveled to Florida during the winters and turned over operation of the home to a caretaker while they were away. I volunteered to shovel the sidewalks and do odd jobs for a 50 percent reduction in rent."
A Ray of Sunshine – Fixed Income
Near zero interest rates, over the past decade, left many on fixed incomes wanting for just about everything. The Federal Reserve kept interest rates artificially low far too long.
Fixed income investments offer decent yields that are either FDIC insured or purchased direct from the Treasury. They remain in favor due to the uncertainty in the equity markets and inflation is still well above the Federal Reserve's 2 percent target rate.
A recent article in the June/July issue of the National Association of Retired Federal Employees (NARFE) extolled the merits of the higher rates now available for CDs, savings and money market accounts. Yes, there are good rates available if you look around, however T-Bills continue to outperform most options available, and I Savings Bonds aren't far behind.
Savings Deposits and CDs
According to the Federal Deposit Insurance Corporation (FDIC), the national average savings account rate is 0.61% as of June 2023. Many online banks, credit unions, and regional banks are offering competitive rates for savings accounts and CDs from 3.5 to 5 percent and higher in some cases. Most higher rate CDs in my area are for terms from 6 to 13 months.
A good deal compared to just a year ago when most rates were less than 1 percent and they are FDIC insured. Certainly, worth considering, many are hesitant to sign up for a Treasury Direct account and purchase short term Treasury Bills online.
I-Savings Bond Rates 
I Bonds issued May 1, 2023 to October 31, 2023 earn 4.3%. This includes a .9% fixed rate. Still a good rate overall for one of the safest investments available. This new rate runs through October 31, 2023. As I mentioned in an earlier article on this subject, you can't cash them in for one year. Plus, if you redeem them within the first five years you lose 3 months interest. My I-bonds issued in 1999 have a 3% fixed rate, they are earning over 7% now!
If you purchase an I-Bond by no later than October 31st of this year, you'll receive the 4.3% for six months from the date of purchase. The rate on your new I-Bond will change after six months to the new rate announced this coming November.
Treasury Bill Rates Continue to Rise
My article titled "Ditch your Bank's Low Savings Rates" describes the advantages of Treasury bills compared to bank and credit union rates. I wrote the first article on this subject March of 2022 when my bank's savings rate was .04%.
Today you can earn just over 5% on a 4, 8 or to 13-week T-Bill, the 26-week T-Bills are currently paying 5.445%. My last reinvestment for 13-week T-Bills yielded 5.274% on May 4th of this year and my 8-week Bills reinvested at 5.144% on May 23rd.
If you invested $50,000 in a 13-week T-Bill issued on 5/4/2023 that's earning 5.274%, the Treasury withdrew $49,341 from your account. On the maturity date of 8/3/2023 they will deposit $50,000 into your account for a $659 profit.
Had you had this amount deposited in a bank savings account paying .61%, you would have earned $76.25!
I'm not sure when the Federal Reserve will reverse course, several additional rate hikes are planned this year. When rates start leveling off, it may be the time to move to longer term CDs or consider investing in 52-week T-Bills, or Treasury Notes that are issued in 2,3,5,7 and 10-year durations to lock in good yields
Treasury Bill Investment Rates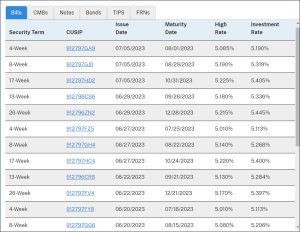 Projections
2023 TSP G-Fund Annual Rate of Return: 3.877%
2023 10-Year Treasury Yield: 3.73%
2023 Average Yield of Treasuries over 4 Year Maturity: 3.87%
2024 FERS COLA: 2.0%
2024 Chained CPI for Previous 12 Months: 4.3%
Note: Above values are subject to change up to November 2023.
These projections are provided by Wilbert J Morell III, a retired Navy Engineering Project manager. He tracks this data monthly and feels confident the 2024 Social Security and CSRS COLAs will be between 2% and 2.8% and the FERS COLA 2.0%.
It all depends on the path inflation takes over the remainder of this year and Federal reserve policy. Time will tell.
Summary
Now that CD rates are improving; if you can lock up your discretionary savings for 6 to 13 months or longer, they are a viable option. CDs can be cashed in before maturity, however the penalties can be significant.
Short term T-Bills continue to provide impressive yields considering how many banks continue to low ball their savings rates for established accounts. My bank offers a relationship APY of 1% for accounts from $250,000 to $499,999.99 and 1.25% for accounts from $500,000 to $999,999.99! Accounts below these thresholds yield a meager .04%. These banks are betting on the reluctance of many to move their savings and checking accounts elsewhere.
The U.S Treasury updated their website recently and it has improved considerably after a difficult start up. Contacting them by phone still requires significant hold times.
Print out your T-Bill transactions and retain a hard copy for your records. I print the screen for each new purchase and reinvestment.
Last 5 posts by Dennis Damp
Tags: CD Rates, Fixed Income, I Bonds, T-Bills, The Good Old Day, Treasuries
Posted in BENEFITS / INSURANCE, ESTATE PLANNING, FINANCE / TIP, LIFESTYLE / TRAVEL, RETIREMENT CONCERNS, SURVIVOR INFORMATION | Comments (0)

Print This Post