Posted on Thursday, 6th December 2018 by Dennis Damp

Print This Post

The wild stock market swings are heavy on the minds of investors today, especially for those approaching retirement and retirees living on a fixed income. It is even more problematic if you depend on Thrift Savings Plan (TSP) and other retirement account withdrawals.  Market volatility is uncomfortable to say the least when you see what you worked a lifetime saving shrink dramatically, sometimes overnight. I wrote several articles about coping with market fluctuations and how to shelter your nest egg from the coming storm.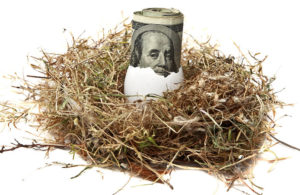 I don't care how seasoned of an investor you are, market volatility is a concern and all ponder the ramifications of a major correction. The S&P on December 6, 2018 was on course to have its worst performance in 7 years!  The following chart, excerpted from the TSP website, shows the current year and last 12-month fund performance.  The ultra-conservative G Fund has outperformed all but the C fund over the past 12 months.
Request a Personal "Federal Retirement Report™" and Annuity Review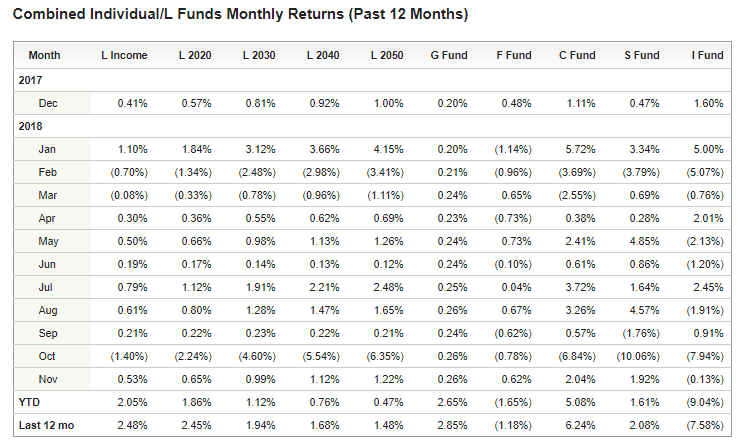 Reviewing this chart confirms 2018 did not perform as many had suggested at the beginning of the year. The returns are meager and could worsen if December stock market performance doesn't improve. After 10 years of gains it is what can be expected.  At the beginning of the year many talked about how foreign stocks were undervalued and should perform well in 2018, just the opposite happened as the market dynamics changed. The concern from this point on is where is the market heading over the short and long term.
These changes aren't of much concern to those who have decades to grow their retirement accounts. It's those approaching retirement and retirees in general that can't wait out a major correction or pending recession.  Downturns create an atmosphere where many defer retirement until their investments recover unless they took measures beforehand and moved to more conservative low beta investments as I discussed in my article titled, "Is the Stock Market Keeping You Up at Night?."
In the referenced article I state, "Over the past 120 years there has been many recessions and of course the great depression that started in 1929. From the early 1900s on there have been four major recessions with the longest recovery period from 1929 to 1955, 25 years! The average recovery period was 16.5 years. The shortest recovery period lasted only six years from 2009 to 2015. What most of us have experienced since 1985 are bull markets interrupted with one recession running six years from 2009 to 2015. Yet, the most recent recession always seems so much worse than earlier periods since it is fresh on our minds."  It's the recovery periods that give those approaching retirement and retirees pause.
The good news is that over time good investments recover as outlined in the following TSP Annual Return Chart excerpted from the TSP website.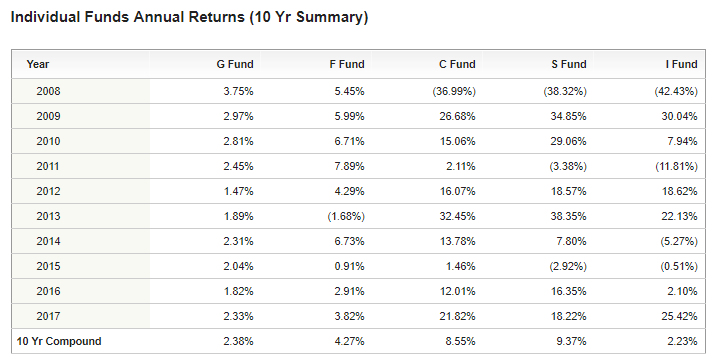 It took almost 4 years for the C fund to recover the loss. The C Fund in 2008 lost $369.90 for each $1,000 invested dropping the balance to $630.01. In 2009 the C Fund gained 26.68% increasing the balance to $798 Then in 2010 the C Fund increased 15.06% increasing the balance to $918.17 then in 2011 the 2.11% gain increased the balance to $937.54.  Finally, in 1012 the 16.07% gain raised the balance of that original $1,000 to $1,088.  The International (I Fund) didn't recover until 2013. Many investments in 2008 and 2009 dropped 50% or more and it took many years for those to fully recover their losses
A well-diversified core portfolio can provide the balance you need to whether stock market volatility. However, the more conservative you are the faster the recovery will more than likely be. Yes, we all are concerned when markets fall dramatically but it isn't the end of the world.  It's the beginning of a new reality and one that we have to deal with.  Most reduce their investment risk if they will need to withdraw from their retirement accounts to live comfortably. Plus, they may sleep better at night knowing their account balances will be there when needed.
Request a  Federal Retirement Report™  today to review your projected annuity payments, income verses expenses, FEGLI, and TSP projections.
Helpful Retirement Planning Tools / Resources
Distribute these FREE tools to others that are planning their retirement
Disclaimer: Opinions expressed herein by the author are not an investment or benefit recommendation and are not meant to be relied upon in investment or benefit decisions. The author is not acting in an investment, tax, legal, benefit, or any other advisory capacity. This is not an investment or benefit research report. The author's opinions expressed herein address only select aspects of various federal benefits and potential investment in securities of the TSP and companies mentioned and cannot be a substitute for comprehensive investment analysis. Any analysis presented herein is illustrative in nature, limited in scope, based on an incomplete set of information, and has limitations to its accuracy. The author recommends that retirees, potential and existing investors conduct thorough investment and benefit research of their own, including detailed review of OPM guidance for benefit issues and for investments the companies' SEC filings, and consult a qualified investment adviser. The information upon which this material is based was obtained from sources believed to be reliable, but has not been independently verified. Therefore, the author cannot guarantee its accuracy. Any opinions or estimates constitute the author's best judgment as of the date of publication, and are subject to change without notice. The author explicitly disclaims any liability that may arise from the use of this material.
Last 5 posts by Dennis Damp
Posted in BENEFITS / INSURANCE, FINANCE / TIP, LIFESTYLE / TRAVEL, RETIREMENT CONCERNS, SURVIVOR INFORMATION | Comments (0)

Print This Post