Posted on Tuesday, 1st November 2022 by Dennis Damp

Print This Post

This is a challenging time for investors with the country bordering on a recession with extreme market volatility. The Treasury still offers a safe haven for our cash with decent yields. Unfortunately, with the exception of the TSP G-Fund, private sector bonds funds were a disappointment this past year, falling anywhere from 5 to 20% or more.
I-Savings Bond Rates 
Despite the higher-than-expected inflation report in October, the Series I-Bond's composite interest rate fell to 6.89% this November. The composite rate combines a 0.40% fixed rate of return with the 6.48% annualized rate of inflation as measured by the Consumer Price Index for all Urban Consumers (CPI-U). The new rate will run from November 1 of this year through April 30, 2023.
This is down from the 9.62% interest earned through October 31st, the highest I-Bond rate in history. The new rate is the third-highest yield since the introduction of I-Bonds in 1998. If you have older bonds with fixed rates, it will be higher.
My I-bonds issued in 1999 have a 3.3% fixed rate, these will earn 10.19% going forward. They earned over 12.92% from May 1 to October 31 of this year! Can't beat that.
If you purchased an I-Bond by no later than October 28th of this year, you'll receive the 9.62% for six months through April of 2023, the new rate of 6.89% will run for six months after that.
It's still a great rate and you would be hard pressed to find better in the market today. Locally, some credit unions are offering special CD rates for their members, mine has a special rate of 3.5% for 15 months for a limited time.
Treasury Bill Rates Still Rising
My article titled "Ditch your Bank's Low Savings Rates" describes the advantages of Treasury bills compared to bank and credit union rates. I wrote the first article on this subject last March when my bank's savings rate was .04%; it remains there to this day, almost 8 months later.
Today you can earn just over 4.5% on a 26-week T-Bill, the shorter-term Bills, as noted in the following chart, are earning close to 4%! These fixed income rates are attractive considering most banks and CDs are considerably less.
If you purchased $50,000 in the 26-week T-Bill issued on 10/27/2022 that is earning 4.552%, the Treasury withdrew $48,862 from your account. On the maturity date of 4/27/2023 they will deposit $50,000 back into your account for a $1,138 gain.
Had you had this amount deposited in a bank money market account paying .04%, you would have earned a meager $10!
Treasury Bill Investment Rates (Recent Auctions)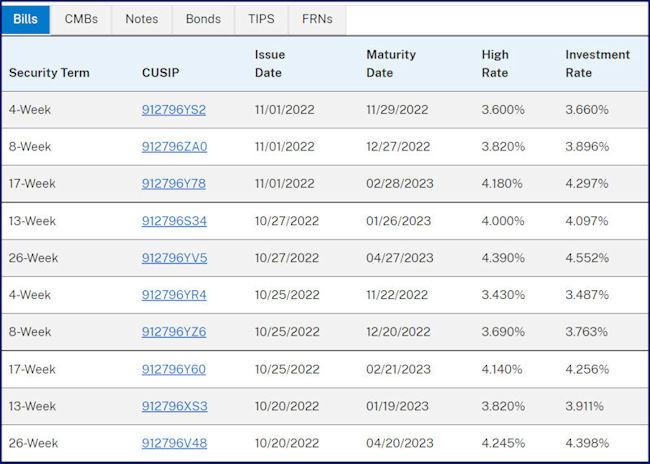 Another Option
Quality dividend paying stocks provide some relief during market downturns; reinvested dividends buy more shares at lower prices for potential long-term gains.
I started investing in high quality dividend paying stocks in the late 1970s through Dividend Reinvestment Plans (DRPs). At that time, you could send select companies a minimum of $25 monthly to purchase additional shares or a fraction of a share if the stock price exceeded $25.
Companies still offer these. However, most brokerage firms allow investors to elect dividend reinvestment for the stocks, ETFs, and mutual funds in their accounts. A great way to dollar cost average; over time, accounts can grow substantially.
Even the best stocks are impacted by recession; it takes personal fortitude to stay the course when our portfolios are subject to severe market volatility and downturns. That's why retirees need to be cautious, my article titled "Is the Stock Market Keeping You Up at Night?" talks about this dilemma.
Summary
The U.S Treasury is having a difficult time keeping up with I-Bond and Treasury Bill and Note demand from retail investors like us. There website is going through a major update, and it is almost impossible to talk with a Treasury customer service rep, that's how strong demand continues to be.
Treasury Direct does need a major upgrade. There site, this past 6 months, has been unreliable to say the least, and they don't provide monthly and quarterly statements that all other financial institutions are required to make available to account holders. You have to print out the computer screens to have a hard copy record of your transactions and their customer support department is woefully understaffed.
The logon issues should resolve now that the new rate has been announced. Many were trying, at the last minute, to set up a new account to take advantage of the 9.62% rate. The last day you were able to do this was October 28th.  Those who subscribe to my column had an early heads-up last December to set up an account and purchase bonds when the rate was 7.2%.
Helpful Retirement Planning Tools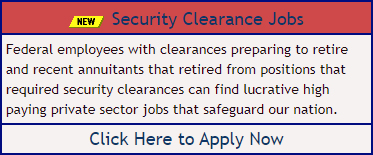 Disclaimer: The information provided may not cover all aspect of unique or special circumstances. Federal regulations, medical procedures, investment, and benefit information are subject to change. To ensure the accuracy of this information, contact relevant parties for assistance including OPM's retirement center. Over time, various dynamic economic factors relied upon as a basis for this article may change.
The information contained herein should not be considered investment advice and may not be suitable for your situation. This service is not affiliated with OPM or any federal entity. You should consult with a financial, medical or human resource professional where appropriate. Neither the publisher or author shall be liable for any loss or any other commercial damages, including but not limited to special, incidental, consequential, or other damages.
Last 5 posts by Dennis Damp
Tags: Financial PLanning, I Bonds, Retirement Planning, T-Bills
Posted in ESTATE PLANNING, FINANCE / TIP, LIFESTYLE / TRAVEL, RETIREMENT CONCERNS | Comments (0)

Print This Post