Posted on Friday, 31st March 2023 by Dennis Damp

Print This Post

The economy continues to heat up. Employers added 311,000 workers in February, a sign that the pace of hiring continues to rise, economists predicted 225,000 new jobs!
The Federal Reserve continues to raise interest rates to fight inflation. Their intent is to slow down the economy and raise the unemployment rate that is currently sitting at 3.6 percent, a slight increase from the previous month.
Treasury bills and savings bonds continue to provide a safe harbor for our savings along with rising CD rates at most banks and credit unions. However, with the cost of everything rising dramatically this past year, many retirees are looking for jobs to compensate for higher prices.
Our electric and gas bills more than doubled this year and visits to your local grocery store brings the reality of the situation to the forefront. Our Cost of Living Adjustments (COLAs) aren't keeping up with the runaway inflation that shows no signs of abating.
The Labor Participation Rate
The labor force participation rate remains below the pre pandemic rate by approximately 2.5 million workers. Many retired early and signed up for Social Security and company pensions during the pandemic.
Job Opportunities
Companies continue to submit job vacancies to our Jobs Board to attract federal retirees. Opportunities exist for those looking to supplement their retirement income or to start a second career.  We provide this job listing service specifically for companies that are seeking to hire experienced retired federal workers.
Currently Lockheed Martin is seeking a Cyber Security ISSO to support the F-35 Reprogramming laboratories at Eglin Air Force Base, Florida. Performs mandatory information system security tasks on assigned information systems.
For those looking for part time positions, many are available and pay well these days. Job vacancies are advertised at most establishments.
Security Clearance Jobs
If you are a U.S. citizen and have an active security clearance, or recently retired, explore positions with major corporations worldwide. ClearanceJobs is the largest security-cleared career network. Only pre-screened defense and intelligence recruiters can access your candidate profile.
There services are used by over a thousand defense and intelligence contractors like Northrop Grumman, Booz Allen, Raytheon, General Dynamics, and RAND, as well as federal government agencies including the CIA, FBI, Federal Reserve and National Laboratories. Click on the banner below to sign up.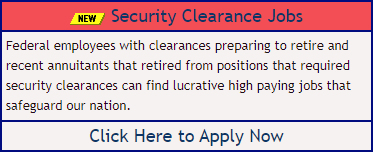 Annuity Impact
A federal retiree's annuity is not reduced when returning to work for private sector employers. Federal retirees can return to federal service under the Rehired Annuitant Program. In most cases this will impact and reduce their annuity. However, certain rehired annuitant positions offer waivers for critical hard to fill positions, allowing the applicant to retain their annuity and new salary in full.
There are additional opportunities to work for contractors. I've seen first-hand, while working with the FAA, retirees coming back to work as contractors with companies such as Booz Allen, Lockheed Martin, and others.  Here is a list of the Top 68 Contractors Working for the Federal Government. If you are interested in working for a contractor after retirement, explore your options early and look for opportunities on their website.
Summary
Jobs are plentiful and there is a broad spectrum of occupations to consider. Many related to your federal employment. If you are thinking of going back to work, use our jobs board and job-hunting resources to get started and search for opportunities that interest you.
Helpful Retirement Planning Tools
Disclaimer: The information provided may not cover all aspect of unique or special circumstances, federal regulations, medical procedures, and benefit information are subject to change. To ensure the accuracy of this information, contact relevant parties for assistance including OPM's retirement center. Over time, various dynamic economic factors relied upon as a basis for this article may change.
The advice and strategies contained herein may not be suitable for your situation and this service is not affiliated with OPM or any federal entity. You should consult with a financial, medical or human resource professional where appropriate. Neither the publisher or author shall be liable for any loss or any other commercial damages, including but not limited to special, incidental, consequential, or other damages.
Last 5 posts by Dennis Damp
Tags: Federal Annuitants, FERS Retirees, Retiree Jobs, Security Jobs, Writing Jobs
Posted in ANNUITIES / ELIGIBILITY, BENEFITS / INSURANCE, EMPLOYMENT OPTIONS, FINANCE / TIP, RETIREMENT CONCERNS, SURVIVOR INFORMATION | Comments (0)

Print This Post